Anyone that knows me is aware that I'm a big Rails to Trails Conservancy supporter. It's my favorite national organization. RTC has a secondary site called TrailLink, that offers info on multi use trails throughout the country. This article is a "one stop shop" to learn all the basics about TrailLink, and why you should become a TL user. My goal with this article, is to ask more locals to sign up with TrailLink. Share your reviews of our trails listed on the site, and add trail photos. I think it would be much more fun, if more of us participated, and shared inside info, for others that have not visited our trails, yet. This article arrives with the coming of spring, and the upcoming annual opening day for trails !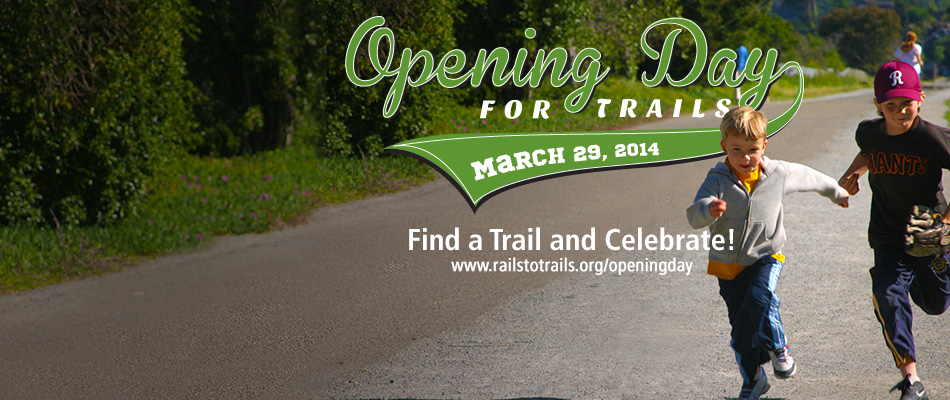 So let's get to the fun about TrailLink !
The web version -
Signing up for TrailLink is completely free, and the sign-up process is very quick/easy ! Even without signing up you can still search for trails, look at reviews,etc.  Creating an account really gives you much more though, at no cost to you.
What can you do with a free account ?
1. Save your favorite trails on your "my trails" list
2. View maps of the trails, and even print them out if you want
3. Write a user review of your experience on the trail.  How do you rate the trail for others to read your review.
4. Share trail photos for others to view
5. Search for multi user trails all over the country
6. Submit a new trial, or maps of a trail that is not shown on the site
Account upgrade – For 29.99 a year you can become an "unlimited access member". This provides everything above plus – create custom routes, make your own guidebooks, and unlimited map downloads for the mobile version.
I think for those that will make use of it, the unlimited price is a wonderful deal ! Though not added features that everyone will need.
Going mobile with TrailLink -
Currently only available on the Apple IOS platform. An Android app is anticipated in the summer of 2014 ! I love the IOS app, no matter my location, when I open the app it will show me what trails are nearest to me. I also really like having the maps on my iPhone combined with the GPS. It shows you exactly where you are located on the trail.  The smart phone app is free to download, and the first map download is free.  
Perhaps you will be doing some traveling, or just have a few maps you want on your phone. You can buy individual map download for a modest price. With your IOS device this will be a purchase via your iTunes account, like any other purchase. So you'll need to buy tokens for mobile map downloads. Each map download requires two tokens. The token options are the following -
3 Token Pack:              $1.99
7 Token Pack:              $3.99
15 Token Pack:            $7.99
Not to worry if you upgrade your iPhone. Your maps, and such is associated with your account on the TrailLink server. So as long as you have the app on any phone, and you are signed in, you can access all your maps, and favs ! No need to worry about losing your account maps, or what have you with changing devices. Remember iPod touch users you can use the app as well, but you have no GPS to track your real-time position on the trail. Of course you need an internet connection, or data services to access the app data "on the go". Although your map is downloaded on your device for offline use.
The app is a great feature to have as a registered user. View "my tails", search for trails to look at trail info, and purchase or access your maps. The app is a very clean, and has good working interface!
Above is what I find to be the overall highlights of TrailLink. From trail advocate to trail toddler, and everyone in between – TrailLink is for you ! If you would like to learn even more about TrailLink you might find the FAQ helpful that will answer even more questions.
Again my hope here is to encourage Humboldt Bay region trail users to sign up on the site. I'd really love to see more locals add pictures of our local trails, and add reviews. I'd like to know what more of you think about our trails. Honestly I just signed up with the site not all that long ago, and I find the experience very pleasant ! I actually took some time to get our trails listed more updated, some trails were missing, and limited pictures. I hope you can join the fun, and use this outlet to show your support for trails.  
Combine the national powers of Rails to Trails Conservancy with our local superheroes at the Humboldt Trails Council ! A fantastic combination for Humboldt resident trail users.
————————–
I'd like to thank Laura Stark (Staff writer/TrailLink coordinator) for answering some of my questions, originally not listed within the TL FAQ.